| | |
| --- | --- |
| Cummins | 6CTA8.3-C240 |
| Net Power | 179kW240 Hp |
| Torque | 1143 N m |
| Torque Converter | Double Turbine Four Original |
| Transmission | ZL 60601006 |
| Hydraulics | 17 M pa |
| Fuel Tank | 300 L |
| Front Axle | SEM Rigid |
| Rear Axle | SEM Oscillating |
| Dimensions | 6950×3520×3500mm |
| Weight | 20 Ton |
The 4 Reasons
Wide Cast Feet / Floating Cleaners
Fewer Rows / Offset Drums
The 3 PROGRAMS
Efficiency gains were achieved from decades of development in New Zealand.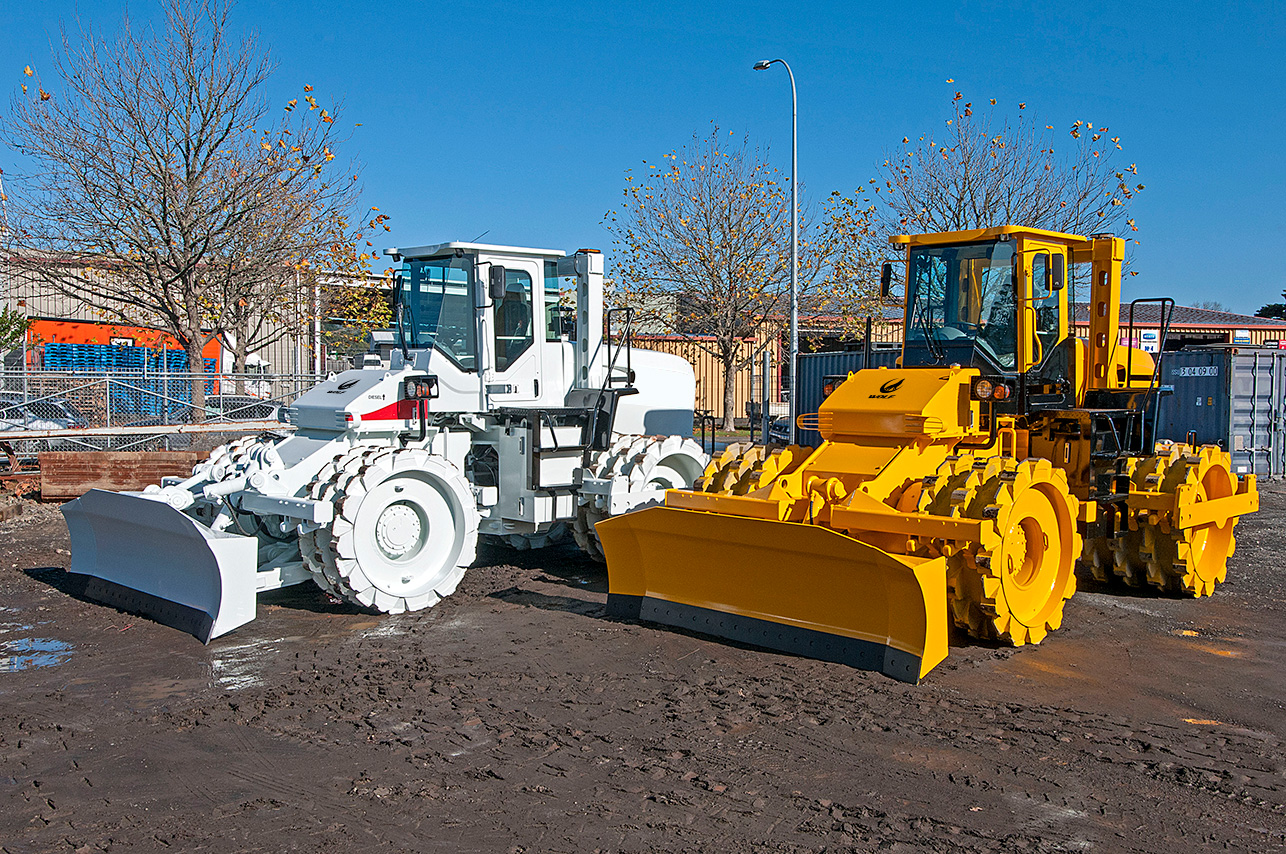 The 20 years CAT program 1990/2009
Almost 20 years of converting and so improving the efficiency of the CAT815 & CAT825 compactors

These compactors were sold in 6 countries (Canada, Australia, NZ, Thailand, Tahiti & New Caledonia).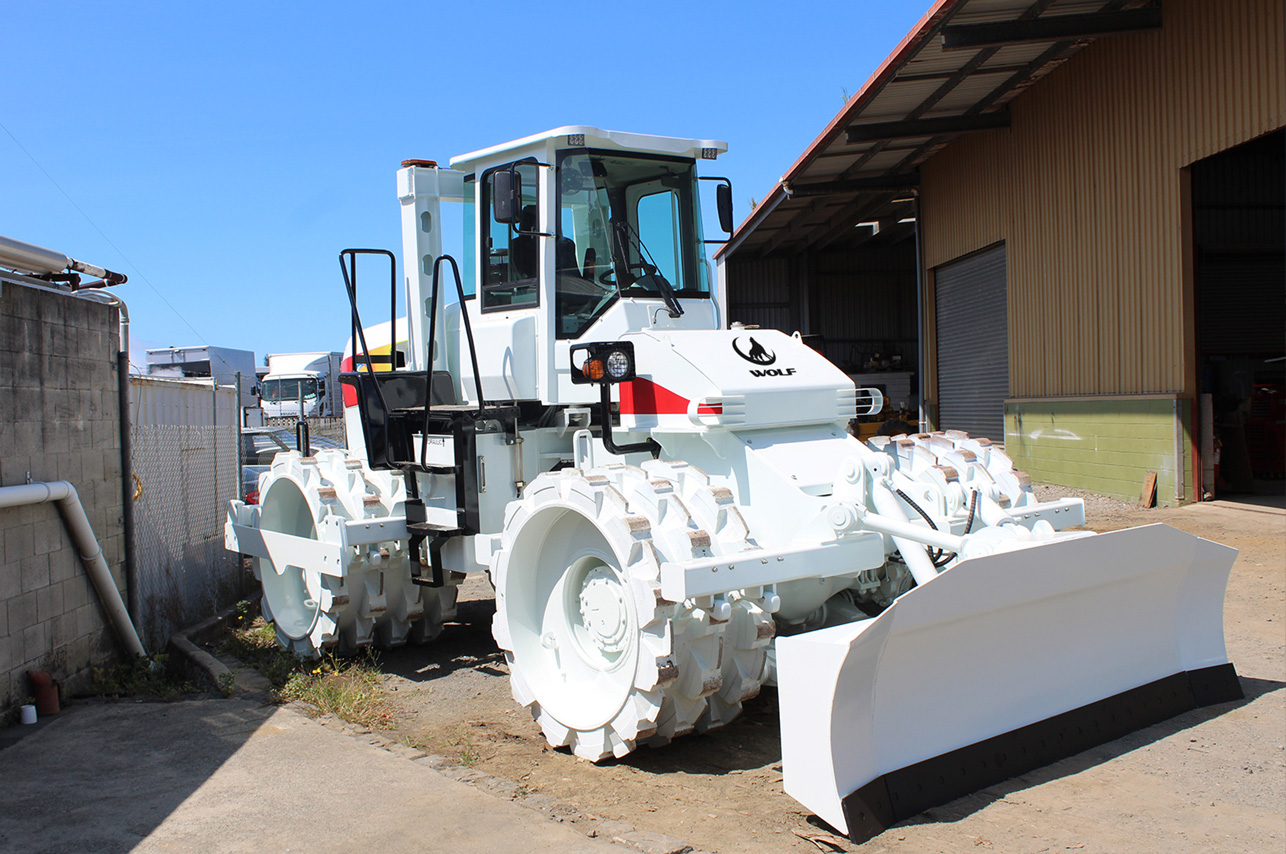 The Hyundai program started 2009
This was a great leap forward, to new product with its new product warranty

Sold in NZ & Australia with productivity closer to the much bigger CAT825

We did a presentation to Hyundai in Korea but the management could not see an assembly line potential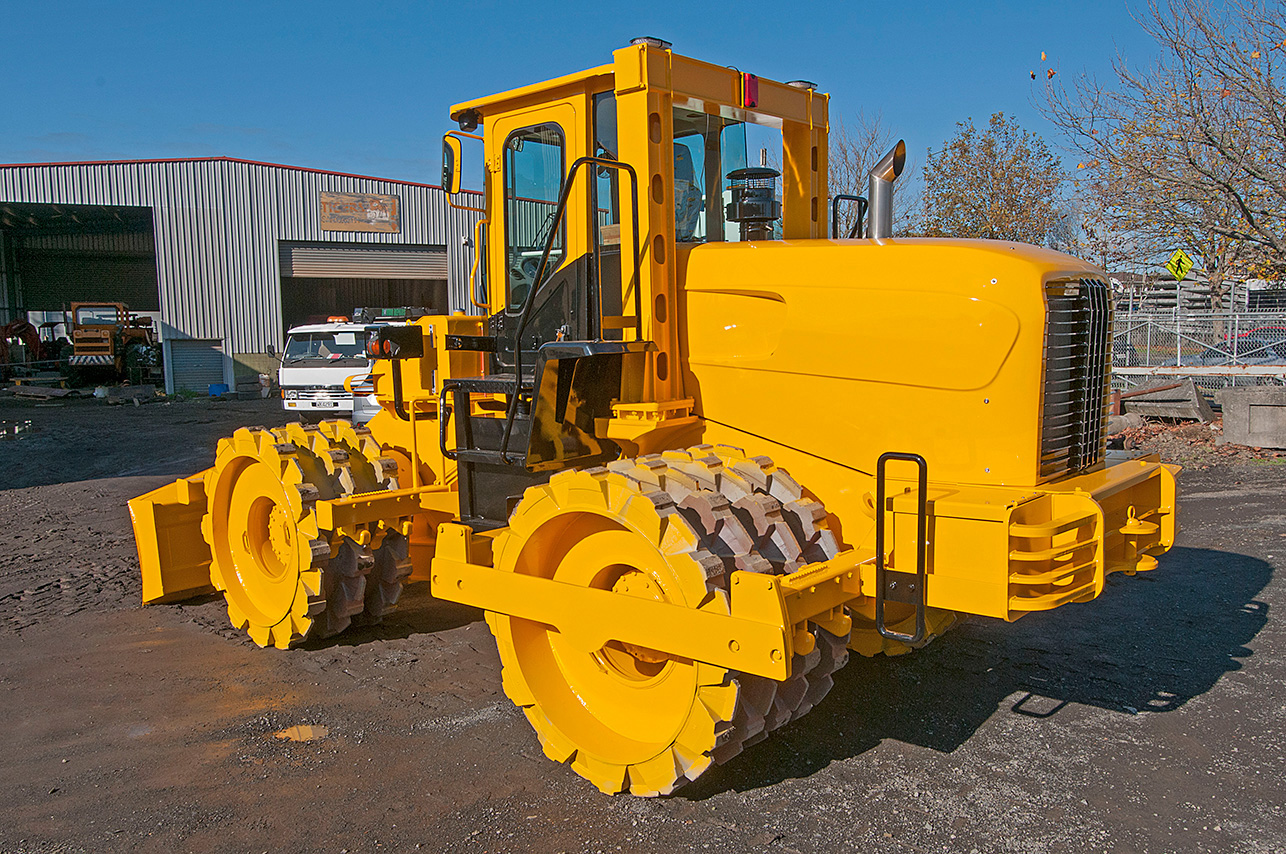 The Pacific program started 2016
using the developments tried and true from the CAT & Hyundai programs

we now have approximately 40% less drag than compactors that have 5 rows of narrower feet and fixed cleaners

2017 first unit starts compacting in New Zealand

First 3 machines pre-sold
Compactor's Story
Over the past six decades, Allan Cameron has completed many large-quantity earth-works contracts. Compactors of different types were used, the mainstay being the CAT825, a very reliable tool, but Allan was always of the opinion that it was too heavy and draggy. During the off-season Allan set about to improve the situation.
"Firstly we rebuilt the cleaners so they were spring loaded. This allowed the trailing cleaner to move away from the drum when it was not working. With fixed cleaners, the trailing cleaner compresses the clay against the drum, which can cause more drag than the cleaner doing the cleaning. This single improvement gained more speed and less fuel burn".
The second initiative proved to be a real game changer. "We cast wide feet incorporating self-cleaning plates. This resulted in having only four rows of feet per drum instead of the normal five 一 only three gaps to clean instead of four. This gave us a clear 25% reduction in drag".
The third initiative again based on simple common sense was to offset the drums. In Allan's words "a perfect pattern first pass".
"We then had a very productive tool which we sold in six countries. Canada, the Pacific nations, New Zealand, Australia and Thailand.
"We then decided to move away from used plant" The Hyundai 770-7 was the first new unit to have these initiatives. The next unit was the 770-9 model on which the cleaner beams were moved up to a higher level, making the cleaners easy to inspect and adjust. New cast floating cleaner arms were fitted making the 770-9 a much better tool.
The Hyundai were fitted with a tilting blade with angled tips for cutting drains. The blade featured advanced parallelogram lift, a must for efficiency. This success inspired a visit to the Hyundai factory, but due to low international compactor sales quantities,Hyundai Korea could not see the numbers needed to put the 770-9 into assembly line production. "This is probably why large heavy plant manufacturers have not pursued compactor design development".
Several years passed by, with the burning question of how to build new compactors that could be sold cheap enough, yet with all the features. Allan's decades of experience as both a plant owner and operator was fundamental to selection of the chassis, engine and transmission. With these decided Allan's team set about to develop their 20 Ton Class Compactor. "We set out to achieve equal ground pressure on all feet. Firstly we had to remove 1 row on the front drums. We needed not only more weight but we also wanted a better looking counter weight".
As with all product developers great ideas just pop up, and for Allan that was adding a high compression cap to each foot. "The ground pressure is effectively doubled as the foot enters the fill, then it equals out as the foot continues around. As the material starts to tighten up and the compactor lifts, the high compaction caps do their work again and add to the tight finish". This effectively gains double stage ground pressure.
To enable a smoother ride on hard surfaces (hall roads) blades were added above the self-cleaning plates between the feet. These also help with breaking up slabs in the fill.
Allan's 3 decade journey began with modifying used CAT machines, progressed to new Hyundai's, and has arrived at its intended destination.
The result is a highly refined efficient tool, offering 40% less drag and consequently faster speed and lower fuel burn, at a staggering price of less than half other brands..
Developed from decades of innovative improvements based on simple common sense